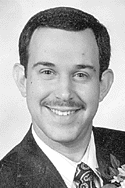 James D. Lutz
James D. Lutz, 35, of Oil City RD 2, died unexpectedly Monday, March 26, 2001, at his residence.
Born Oct. 5, 1965, in Oil City, he was a son of Daniel and Edna Shepard Lutz.
Mr. Lutz was a graduate of Venango Christian High School and attended Vo-Tech where he took welding, refrigeration and carpentry.
He was employed in the shipping department at Electralloy in Oil City.
Mr. Lutz was a member of St. Stephen Church, Oil City.
He enjoyed hunting, riding his 4-wheeler and woodworking.
Mr. Lutz was married Aug. 5, 1994, to the former Debora A. Schwabenbauer, who survives.
Also surviving are his parents, Daniel and Edna Lutz of Oil City RD 2; a daughter, Megan Lutz at home; two brothers, Edward Lutz of Alexandria, Va., and Timothy Lutz of Oil City; and two sisters, Kim Felmlee of Oil City and Stacey Lutz of Erie.
Friends may call from 2 to 4 and 7 to 9 p.m. Wednesday in the Morrison Funeral Home, Oil City.
Mass of Christian Burial will be celebrated at 10 a.m. Thursday in St. Stephen Church with the Rev. Jeffery J. Noble, pastor, presiding.
Interment will be in Sunset Hill Memorial Gardens.
The family suggests memorials be made to St. Stephen School, Oil City.
Oil City Derrick (27 March 2001)